Ulster Bank survey suggests business 'surge' for NI exporters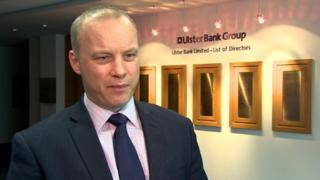 Northern Ireland exporters are experiencing a surge in business, data from the Ulster Bank has suggested.
The bank surveys the activity of private sector firms every month, in what is considered a reliable indicator of the economy.
In October, export orders expanded at their second highest rate since the survey began.
The weakening of sterling since the Brexit vote makes UK-produced goods cheaper in overseas markets.
'Mixed blessing'
However, the survey also implies that domestic orders have been "contracting at a significant rate".
Overall there was a modest rise in output across the Northern Ireland private sector.
The bank's chief economist, Richard Ramsey, said the aftermath of the Brexit vote had been "a mixed blessing".
"On the one hand, sterling's weakness against the euro has boosted export price competitiveness.
'Cost inflation'
"Meanwhile some survey respondents attribute increased uncertainty following the vote as negatively affecting orders."
He added that the weak pound is also raising input prices for importers.
"Manufacturers and retailers are bearing the brunt of the input cost inflation, with the former posting the fastest rise in input costs since July 2008."