Remembrance Sunday: Events held across Northern Ireland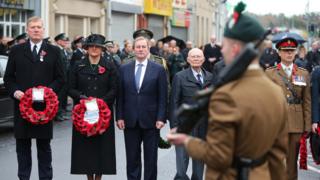 Ministers from the Northern Ireland Executive and Irish government have taken part in Remembrance Sunday commemorations across Northern Ireland.
First Minister Arlene Foster and Taoiseach (Irish Prime Minister) Enda Kenny attended a service in Enniskillen, County Fermanagh.
Mr Kenny has travelled to the event every year since 2012, laying a wreath of laurels at the war memorial.
He described the event as "well run and poignant".
Mr Kenny explained that it was important to come to the same place every year because now he has "got to know" the people of Enniskillen, giving the day a "special symbolism".
"It's something to be remembered but it's also something for young people to reflect on, that this sort of thing should not happen again," he said.
Mrs Foster said it was particularly important to have Mr Kenny at this year's event as 2016 marks the centenary of the Battle of the Somme.
She said: "We're here recognising so many men from all over Ireland who fought in that horrific battle, so it's nice to have him here."
'Shared history'
Secretary of State James Brokenshire attended Belfast City Hall's event.
The ceremony was led by Lord Mayor, Brian Kingston, who told BBC News NI: "It's a highlight of my year as lord mayor to have laid a wreath on behalf of the people of Belfast."
The DUP representative estimated that more than 1,000 people attended the service at Belfast's Cenotaph.
Stormont Junior Minister Alastair Ross laid a poppy wreath on behalf of the Northern Ireland Executive while Tánaiste (Irish Deputy Prime Minister) Frances Fitzgerald laid a laurel wreath on behalf of the Irish government.
"In recent years, we have invited representatives of the southern government, recognising that we are commemorating events right back to the First World War, when people from throughout the island of Ireland served in the British army," the lord mayor of Belfast said.
"I think as we are commemorating the centenary of the First World War, it has raised our awareness of not just the sacrifice and the service, but also the horror of war... the terrible conditions that they endured."
The secretary of state praised the cross-community nature of the Belfast event.
"Increasingly, there is that sense of a shared history, of being inclusive, of remembering all those who gave their lives during the Great War, particularly as we remember that with the Battle of the Somme [centenary] this year," Mr Brokenshire said.
"So I think there is that sense of sacrifice, of service, of actually having that inclusive approach and as we remember those brave men who gave their lives, I think that should be at the forefront of everybody's minds.
Members of the Royal British Legion and other armed force's associations marched through the Garden of Remembrance, which is dotted with small poppy crosses.
They too paid their respects to fallen comrades in two world wars and more recent military campaigns around the world.
British Parliamentary Under Secretary of State, Kris Hopkins attended the Enniskillen service.
Mr Kenny became the first Irish prime minister to attend a Remembrance Day service in Northern Ireland when he took part in commemorations at Enniskillen four years ago.
More than 200,000 Irish-born soldiers are estimated to have served in the British army and navy from 1914 to 1918.
Thousands of soldiers also left the country and the Irish army to join British forces during World War Two.