Credit union manager jailed for stealing almost £100,000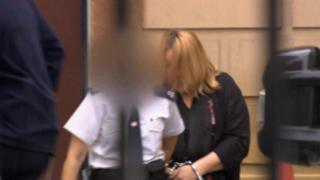 An assistant manager of a County Londonderry credit union who stole almost £100,000 has been jailed for eight months.
Geraldine O'Kane, 47, had pleaded guilty to 14 charges of theft and one of false accounting.
The mother of five, from Birren Road in Dungiven started stealing after her husband's building business collapsed leaving huge debts.
A judge said it had been a serious breach of trust.
A defence barrister at Londonderry Crown Court said O'Kane was both ashamed and remorseful for her offending and said she had not been back in Dungiven.
He said she had managed to obtain a £15,000 loan from the credit union for day-to-day living expenses but, once her financial resources had been exhausted, she started her offending.
In total, O'Kane stole £92,000 by forging signatures on accounts which had seen little movement.
The offences were committed between February 2013 and April last year.
They were uncovered when O'Kane told a woman she met while visiting her mother's grave she had been withdrawing money from her account and from the accounts of other branch members.
Dungiven Credit Union has since reimbursed those affected.
The judge said O'Kane's offending had had tragic consequences for her and for her family.
He said he also took into consideration that she had no previous convictions, the psychological issues she now suffers from, and that she had confessed and made full admissions of her offending.