NASUWT teachers to strike in move that could close schools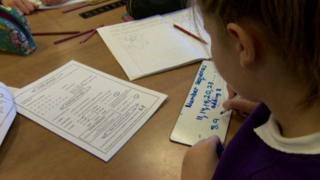 Teachers belonging to the National Association of Schoolmasters and Women Teachers (NASUWT) are to stage a one-day strike on 30 November.
Some schools in Belfast and Newtownabbey will see significant disruption and some may be forced to close for the day.
The strike is over pay, workload and job insecurity.
There are about 230 schools in the area, and the NASUWT is the largest union in 50% of those schools.
Northern Ireland's Education Minister Peter Weir previously said he was "very disappointed that the NASUWT has chosen to take industrial action which will impact on pupils who go to school to learn and achieve".
'Deep regret'
Last month, all teaching unions in Northern Ireland rejected an offer which would have seen their pay frozen last year and a rise of 1% for 2016-17.
Announcing the strike date, Chris Keates of the NASUWT said that they were striking "with deep regret".
"We have been left with no choice by the blatant disregard of the minister for education and the employers for the pay and conditions of service of teachers who provide such a vital public service," she said.
"If the first of the strikes goes ahead it will be the responsibility of the ministers and the employers."
The NASUWT is one of the largest teaching unions in Northern Ireland, and is striking for the first time since 2011.
While schools in Belfast and Newtownabbey will be the first to be affected, the union said that its members in other areas will then take similar action in January and February 2017.