Trump US election victory: The view from Irish America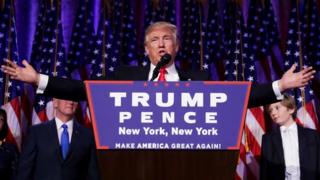 There are an estimated 34.5m Irish Americans in the United States, many of whom went to the polls as part of the stunning election results that saw Donald Trump returned as the 45th President of the United States.
While his victory was an upset in the polls, and a disappointment to many Northern Ireland political leaders including Naomi Long and Colum Eastwood, many Irish Americans were joyous at seeing their candidate elected over Hilary Clinton.
"I haven't stopped smiling all day," said Pat Troy.
He moved to the US from County Offaly in the Republic of Ireland decades ago and said he has always been a Republican.
"I live in Alexandria, Virginia, which is a Democrat city and I've been going around the city in my Trump hat today, proud as punch."
Virginia narrowly voted in favour of Hillary Clinton, but the tight race in a traditionally Democrat state was a harbinger for Mr Trump's success later in the evening.
The former bar owner said he had hosted many Republican politicians in his bar, including former President Ronald Reagan.
He even stood for council as a Republican - but lost, he said, because of the city's Democrat demographics.
"I like Trump because he is not a politician - he tells it like it is," said Mr Troy.
"Sure, some things no-one could approve of, but when you're running for office, you'll say things off the cuff that you don't mean.
"He wouldn't say it again tomorrow. Politics is a dirty game, he did what he had to do.
"He wasn't listening to his advisers and if he hadn't said those things, he would have swept the board."
Hoping for change
Mr Troy's words were echoed by Aileen Deeter, a prison nurse in Kansas who emigrated to the US from Ireland in 1991.
Speaking about Mr Trump's pledge to build a wall between the US and Mexico, she said: "I think it's more just something for people to imagine, rather than a reality.
"I don't think it will happen, it's an awful lot of money to waste.
"It might be more about manning the area. It sounds a little too crazy."
However, she said she was thrilled Mr Trump had won.
"I identify with him," she said. "He wants to keep jobs in America and change the system politically.
"It's very corrupt. I hope there's change there.
Mrs Deeter said her decision ultimately came down to trust - and she didn't trust Hillary Clinton.
"It is nice hearing how Ireland feels and sad they don't see the potential that Trump has," she said.
"We endured Obama and his office, so I think we will survive Trump and he does have Pence at his side who comes with lots of experience.
"Fingers crossed for positive changes."
In Derry, New Hampshire, and neighbouring Londonderry, Mr Trump attracted a slight majority of voters, despite Mrs Clinton narrowly winning the state overall.
'Once in a lifetime'
Craig O'Leary, who owns a music shop in Derry, said he had always voted Democrat but decided it was time for someone like Donald Trump "to be given a chance".
"I was fed up with people who are career politicians, people who never had a proper job in their life," he said.
"I'm a small business owner and I read a lot of Mr Trump's books, they taught me a lot. I think he's a guy who will look after business and do a lot of deals for the country.
"I just saw it as a once-in-a-lifetime opportunity to get someone in there who actually grew his own business and wasn't always in politics."
'Angry divide'
One Northern Ireland woman who had a close-up view of Mrs Clinton's campaign was Clíona McCarney, who has been in the US since June to work for the Democratic Party in Virginia.
She said people in Northern Ireland and the Republic should be concerned over Mr Trump's ability to be the "gatekeeper of our peace process".
"I think that it is very worrying, because it is fairly inevitable we are going to need another American diplomat over our next stage of crisis talks, whenever that may be," she said.
"So I think people in Ireland should be disappointed at this result as well."
Catherine Clinton, international research professor at Queen's University, Befast, and a Democrat, was in the US for the vote.
She said there was a "very deep and angry divide" in the country but she was heartened by the speeches made since the election result.
"For Donald Trump to give a message of bringing the country together," she said.
"For Hillary Clinton to speak to her base of people - and remember the people she was speaking to were the largest number of voters in the country - to give Donald Trump the benefit of the doubt.
"And for President Obama to say he would extend every courtesy to the new president.
"I think that message was quite heartening that perhaps democracy can survive a rather rambunctious electoral season."