The Priests: US punk band offer 'warm wishes' to clerics after musical mix-up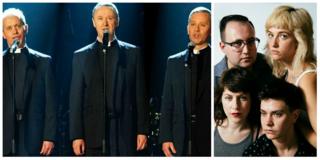 They're the Washington DC punk band caught up in a bizarre mix-up with Northern Ireland religious music group The Priests.
Now Priests, who include two women members, have issued a tongue-in-cheek response to the musical mistaken identity,
Photos of the three NI clerics appeared on music websites to promote a US tour by the band.
The US band said they "extend warm wishes to our brethren 'The Priests'".
The band added: "We appreciate that they recognize us as Priests despite the fact some of us are women."
The band's new album, Nothing Feels Natural, is released next January.
The record is described as "expanding on their lo-fi post-punk bona-fides with ideas drawn from pop, R&B and industrial noise".
The band's website uses the unholy URL of www.666priets666.com.
Northern Ireland group The Priests debut album in 2008 became the fastest selling debut album by a classical act in the UK and featured versions of Ave Maria, Pie Jesu and Abide With Me.
One of their members, Fr Eugene O'Hagan, told the BBC that fans had contacted the trio over how to get tickets for their non-existent US gigs.
"It would be a whole new audience if we walked out on stage. Or if they walked out on stage, with our fan base, there might be a few heart attacks in the audience."
He added: "They're a very different band from us. I Googled them the other evening to find that they're described as singing with tempered tension, thoughtful rage and relentless energy.
"I think the only thing we have in common with them might be the relentless energy."
Songkick, one of the websites involved in the mix-up, said the gig listings had been removed "with immediate effect".