Credit Union manager admits stealing almost £100,000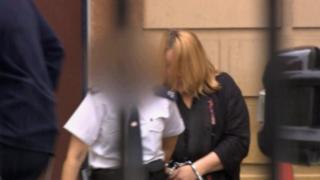 An assistant manager of a Credit Union has admitted stealing almost £100,000 from branch members in Dungiven.
Geraldine O'Kane, 47, pleaded guilty to 14 charges of theft and one of false accounting at Londonderry Crown Court.
The court heard the mother of five, from Birren Road in Dungiven, was not motivated by greed but stole the money after her husband's building business collapsed leaving huge debts.
O'Kane, who wept throughout the hearing, will be sentenced on Friday.
The court heard she stole £92,000 by forging signatures on accounts which had seen little movement.
The offences were committed between February 2013 and April last year. Dungiven Credit Union has since reimbursed those affected.
Mother's grave
In April last year, while visiting her mother's grave in the grounds of Dungiven chapel, a customer returned to her car to find the defendant was parked alongside her.
O'Kane, who worked for Dungiven Credit Union for more than 20 years, said she had something to tell her.
She admitted withdrawing money from her account and from the accounts of other branch members.
It was reported to the branch and an internal investigation found discrepancies in 13 other accounts.
The police were informed and after interview, O'Kane made a full admission.
A defence barrister said she had besmirched her previous good character and she was both shameful and remorseful.
He said she was not motivated by greed but by a misguided sense of desperation to provide for her five children when her husband's business collapsed.