Armagh goes to the polls to elect Bulgarian president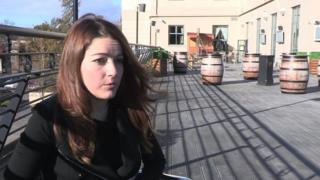 The race to the White House is not the only presidential election taking place right now.
Bulgarians too are in the process of picking a new leader.
Nearly 7m people will go to the polls, including about 2,000 currently living in or visiting Ireland.
In Northern Ireland, the only polling station is in Armagh. On Sunday, it hosted a steady stream of Bulgarian voters anxious to have their say in the first round of what is shaping up to be quite a drawn-out process.
Rumen Radev won the first round, just ahead of ruling party candidate Tsetska Tsacheva and they will now have a run-off on Sunday.
So how has it come to be that votes cast in an Armagh community centre can influence an election so far away?
Valentina Stefanova is a Bulgarian who has been living and working in Armagh for several years.
She helped organise the polling station there, along with government representative Anastaya Milenova who jetted in from Sofia to oversee the count.
Ms Stefanova said that, while they have no official figures, they believe as many as 500 Bulgarians are living in the Armagh/Banbridge/Craigavon area and, with no postal voting system in operation, it is important that they are given their chance to have their say.
The only other polling stations in Ireland are in the Bulgarian embassy in Dublin and at Shannon.
The booths and desks were borrowed from Northern Ireland's electoral office, but there was one key difference in the ballot boxes themselves.
Bulgarian law insists that these are see-through, so out went the familiar black boxes we all know so well.
The votes cast in Armagh were also counted there before the figure was verified and sent on to Sofia.
Ms Stefanova, who runs an educational and cultural group, says many of the Bulgarians living in Northern Ireland are working in agriculture and, perhaps not surprisingly for the Orchard County, the fruit industry.
The polling station was facilitated by the West Armagh Consortium and its chairman Stephen Fields said hosting it was another small step towards making the Bulgarian community feel at home in Northern Ireland.
He said there were good and ever-growing relations between the Bulgarian and host community.
The final results are likely to be known early next week.