NI patients 'facing unnecessary hospital discharge delays'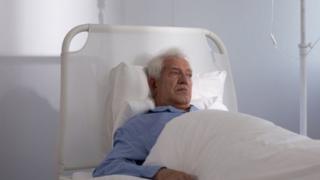 Too many patients in Northern Ireland are facing unnecessary delays in being discharged from hospital due to problems getting the right care in the community, according to a new report.
The auditor general's report also says emergency hospital admissions are costly and often avoidable.
Too many men and women are being left unnecessarily in a hospital bed.
That is due to the lack of care packages available either at home or in the community.
Despite the challenges, the report found that increased focus on emergency care over recent years by the Department of Health is now "securing some improvement".
Initiatives in Northern Ireland that are making a difference include risk prediction by GPs, encouraging people to be better educated and to self-manage, along with telemedicine.
However, much work is still required.
It is recommended that the authorities must act faster in moving services away from hospitals and into the community.
While improvements have been made, the report says 1,700 patients last year remained in hospital despite being deemed ready to be discharged, as there was not a suitable care package available for them at home.
The report adds that the problem has been compounded by various financial pressures including a shortage of medics and a historic configuration of hospitals which is unsustainable.