Gary Haggarty: 'Loyalist supergrass' to face trial over five murders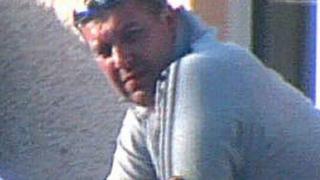 A so-called loyalist supergrass is to stand trial for a catalogue of murders and paramilitary crime, a judge has ordered.
Gary Haggarty faces a record 202 charges, including five terrorist killings.
He appeared at Belfast Magistrates' Court amid heavy security.
The 44-year-old suspected Ulster Volunteer Force commander-turned police informer showed little emotion as the allegations were set out.
Mr Haggarty, who is believed to be living at a secret location in England, was brought into court under police guard.
Dressed in a dark grey suit and wearing a poppy, he stood in the dock with his arms by his side throughout the preliminary enquiry hearing.
The north Belfast man has signed an agreement to become an assisting offender under the terms of the Serious Organised Crime and Police Act (SOCPA) back in 2010.
Terror-related offences
In a prosecution case running to 12,000 pages, the charges against him cover a 16-year period between 1991 and 2007. They include the following murders:
Sean McParland, 55, a father of four from south Belfast gunned down while babysitting his grandchildren at a house in Skegoniel Avenue, Belfast in February 1994.
Catholic workmen Eamon Fox, 44, and Gary Convie, 24, shot dead close to a building site on Belfast's North Queen Street in May 1994.
Sean McDermott, a 37-year-old Catholic shot found shot dead in his car near Antrim in August 1994.
John Harbinson, murdered after being handcuffed and beaten by a UVF gang on the Mount Vernon estate in north Belfast in May 1997.
Mr Haggarty is also accused of a litany of other terror-related offences including:
Five attempted murders and 25 conspiracy to murder charges.
Four kidnappings, six false imprisonment and five hijackings.
Nine counts of possessing explosives with intent to endanger life and 47 counts of having a firearm with intent.
Eighteen charges of wounding with intent to do grievous bodily harm.
Three counts of arson, two charges of conspiracy to defraud and a further allegation of concealing the proceeds of criminal conduct.
Four charges of directing terrorism and five of belonging to a proscribed organisation.
Seven counts of possessing money or property for the purposes of terrorism.
Three charges of causing grievous bodily harm with intent and one count of causing actual bodily harm.
Asked if he understood the charges Mr Haggarty, whose address is listed as c/o the Police Service of Northern Ireland, said: "I do."
Prosecution lawyers submitted that Mr Haggarty had a case to answer.
During the hearing, the defendant was given the change to respond to the allegations, give evidence or call witnesses.
On each occasion, he said: "No, not at this time."
The judge then granted the prosecution application. She said he will be returned for trial at Belfast Crown Court on a date that has not yet been decided.
Mr Haggarty was released on continuing bail.