Lisburn: Alliance condemns 'anti-Muslim' leaflets left on cars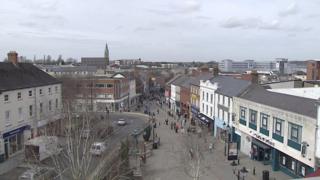 The distribution of anti-Muslim and anti-immigration leaflets in Lisburn, County Antrim, has been strongly condemned by the city's deputy mayor.
Dozens of leaflets criticising Muslims and what it described as the "insanity of mass immigration" were left on car windscreens in Lisburn on Saturday.
They claim to be from the far-right organisation, Ulster Awake.
Deputy Mayor Stephen Martin said the leaflets contained false information in a bid to cause fear and division.
"Everyone is entitled to express their point of view but when a group pretends to defend us all by spreading outright lies intended to divide communities, it needs condemned in the strongest possible terms," Mr Martin said.
"This propaganda needs continually challenged - nothing of what they have put into the public domain that actually stands up to scrutiny.
"These sorts of groups are only interested in whipping up unnecessary fear to further their own agenda."
'Anonymous cowards'
The Alliance Party said the leaflets were left on car windscreens outside Bow Street Mall in Lisburn on Saturday afternoon.
The material made reference to jihad and the terror attacks in Madrid, London, Paris and Nice.
It claimed that immigration was being used as a weapon to "destroy the nation states of Europe".
Mr Martin said: "Whoever wrote this offensive material won't even put their own names to their propaganda."
He called them "anonymous cowards" and said they must be challenged at every turn.
East Antrim Sinn Féin MLA Oliver McMullan said similar leaflets were distributed in Larne, County Antrim, in September.
At the time, he said he would be "contacting the PSNI and calling on them to investigate these leaflets and those responsible for them".