Colombia's President Juan Manuel Santos recalls IRA bomb while student in London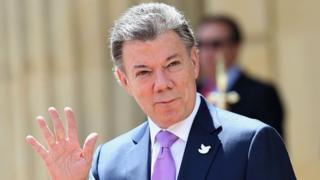 The president of Colombia, Juan Manuel Santos, has said the peace process in Northern Ireland inspired him in working towards reconciliation with Farc (Revolutionary Armed Forces of Colombia) rebels in Colombia.
He told the BBC's Andrew Marr show about his own experience of being caught up in an IRA attack while he was a student in London.
Mr Santos said that he never thought the British government and the IRA could reach an agreement.
"I was walking with the boss to Piccadilly and a bomb exploded," he said.
"It was in a dustbin - I remember it very well because we were shocked."
The Colombian president met political leaders during a one-day trip to Northern Ireland on Thursday.
It formed part of a three-day state visit by Mr Santos to the UK.
"I was in Belfast seeing how people are still trying to reconcile and it has been a great inspiration for me and for the peace process in Colombia," he said.
"Many of the elements of the Northern Ireland peace process, I applied in the Colombian peace process."
President Santos won this year's Nobel Peace Prize for helping end Colombia's 52-year conflict with left-wing rebels.
In September, President Santos and rebel leaders signed a historic agreement ending 52 years of conflict, which claimed an estimated 260,000 lives.
Earlier this month, however, the deal was narrowly rejected by the Colombian people in a referendum.
Despite that, both the government and the rebels have pledged to maintain their ceasefires and try to move the peace process forward.