Single engine plane leaves runway in Kerry diverting other flights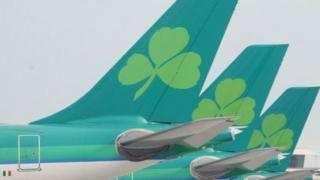 The runway at Kerry Airport in the Republic of Ireland has been closed and an Aer Lingus flight diverted after a single engine plane went off the runway.
The pilot and passenger on board the plane were not injured.
The Aer Lingus regional flight from Dublin to Kerry, which was due to land at 13:00 local time, was forced to return to Dublin Airport.
The 13.20 Kerry to Dublin flight has been cancelled.
It is understood that passengers will be brought by bus to Dublin.
According to the airport's website, flights from London and Dublin scheduled for later today are unaffected.