Islamic State group claim Irishman 'dies making suicide attack'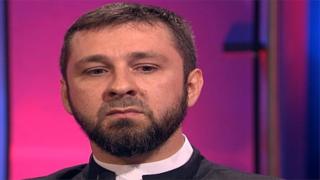 The Irish Department of Foreign Affairs has confirmed it is investigating reports that an Irishman was killed when he detonated a car bomb near the Iraqi city of Mosul on Friday.
The so-called Islamic State (IS) has claimed, via Twitter, that the man was born in Dublin.
It is understood the man was Terence Kelly, who was in his late 40s and was born in the Liberties area of the city.
He was a former nurse and converted to Islam after working in Saudi Arabia.
He changed his name to Khalid Kelly and has been a vocal supporter of al-Qaeda.
Mr Kelly had previously appeared in a number of Irish TV documentaries on RTÉ and TV3.
A propaganda website representing IS claimed Mr Kelly drove a vehicle packed with explosives at Iraqi forces west of Mosul and detonated it.
The website also published a picture of the man posing with a weapon in front of an armoured vehicle.
There has been no official confirmation that Mr Kelly is dead.