George Hamilton: Unresolved Troubles issues 'draining PSNI resources'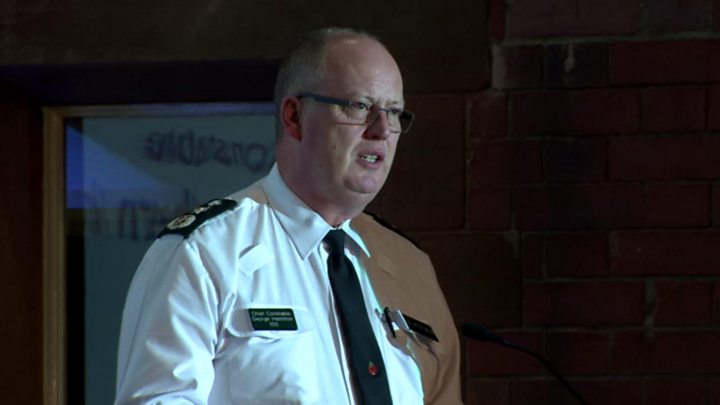 Unresolved issues from the Troubles are taking up too much police time and resources, says Northern Ireland's Chief Constable George Hamilton.
He made the remarks while addressing a conference to mark the 15th anniversary of the formation of the Police Service of Northern Ireland (PSNI).
Mr Hamilton said legacy investigations, as well as flags, parades and protests were "draining" the PSNI's budget.
He said they were "sapping confidence" in the absence of political solutions.
The chief constable called for resolutions similar to the deal struck in September in the Ardoyne parade dispute.
'Draining budgets'
He was referring to an agreement between the Orange Order and the Crumlin Ardoyne Residents Association (Cara) after a three-year stand-off over a controversial march.
Loyalists ended their nightly protest at Twaddell Avenue which had begun in the summer of 2013, when they were refused permission to complete the return leg of their 12 July parade.
Before the deal, policing the annual march, residents' protests and the nightly loyalist demonstration at Twaddell Avenue had cost the PSNI millions of pounds.
Addressing Wednesday's conference, Mr Hamilton said: "Dealing with the past; parades and protests; flags; identity; symbols - in the absence of a political and societal resolution to these issues, these issues continue to be left at the door of policing and the broader criminal justice system.
"They sap the community confidence and they drain budgets."
However, Mr Hamilton said there had been a "transformation in policing" since the PSNI was formed to replace the Royal Ulster Constabulary (RUC) in 2001.
He added there was now a "broad acceptance of the policing structures right across our communities that we serve - something that would have been unimaginable when I joined the police back in 1985".
The chief constable said he remained "enormously optimistic" about what could be achieved in the future when police, political and community leaders work together.