Colombia's President Juan Manuel Santos meets NI leaders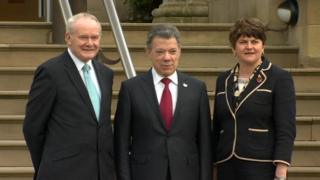 The president of Colombia, Juan Manuel Santos, has met political leaders during a one-day trip to Northern Ireland.
It formed part of a three-day state visit by Mr Santos to the UK.
Earlier, he held talks at Stormont Castle with the first and deputy first ministers and the secretary of state.
First Minister Arlene Foster said she wanted to "extend the hand of friendship" to the Colombian government during the visit.
President Santos has made no secret of the fact that the Northern Ireland peace process inspired him to try and end Colombia's 52-year conflict with left-wing rebels.
He won this year's Nobel Peace Prize for his part in securing the agreement.
Mrs Foster said the path to peace was challenging, but "one worth travelling", adding that she hoped President Santos's visit to Northern Ireland would encourage collaboration, partnership and renewed engagement between the two countries.
In September, President Santos and leftist rebel leaders signed an historic agreement ending 52 years of conflict, which claimed an estimated 260,000 lives.
Last month, however, the deal was narrowly rejected by the Colombian people in a referendum.
Despite that, both the government and the rebels have pledged to maintain their ceasefires and try to move the peace process forward.
Before the Colombians reached agreement, a number of Stormont politicians travelled out to the Cuban capital of Havana, where talks were under way in order to share their perspectives on negotiating peace agreements.
'Political will'
Deputy First Minister Martin McGuinness said it was an "immense personal honour" to welcome President Santos to Stormont Castle.
"Bogota may be many miles from the bogside (in Londonderry), but our journey to peace offers a beacon of hope to people around the world of what can be achieved," said Mr McGuinness.
He said Colombia could count on continued support from the Northern Ireland Executive, adding that "with political will and patience, there is a way".
During his visit, President Santos also thanked a number of Stormont politicians who assisted in the talks process with the Farc rebels.
He also attended a civic lunch at the Titanic Centre in Belfast and toured a community hub on the peace line in the north of the city.