Assistant Chief Constable Will Kerr offered NCA role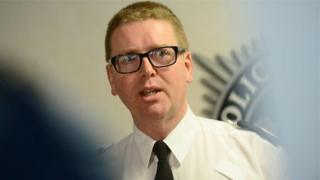 One of Northern Ireland's most senior police officers looks set to leave the PSNI for another job.
Assistant Chief Constable Will Kerr has been offered a senior role with the National Crime Agency, referred to as British equivalent of the FBI.
He has been offered the position of NCA director, with responsibility for leading investigations into child sexual exploitation.
The NCA has been operating in Northern Ireland since May last year.
It is understood Will Kerr has asked the Policing Board, his employer, for permission to take up the role on secondment.
He joined the RUC in 1989 and was appointed ACC with responsibility for the PSNI's Crime Operations Department two years ago.
The department is the largest department within the police service and is responsible for combating all serious and organised crime, including dissident republican activity.
Last year he settled an alleged discrimination case against the Policing Board after he missed out on becoming deputy chief constable.
The biggest NCA investigation here is what the organisation calls Operation Pumpless - its inquiry into the sale of NAMA's Northern Ireland property portfolio.