Wrightbus secures four-year deal with Lothian Buses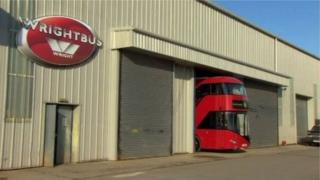 The Ballymena firm, Wrightbus, has won a major order in Scotland for more than 300 vehicles.
They will be supplied to Lothian Buses over a four-year period from 2017.
Neither organisation would put a value on the deal, with details of the order being made at a trade show event in Birmingham.
Wrightbus will deliver a mixture of up to 316 buses, including diesel hybrid and electric vehicles.
The company is best known for its Routemaster bus for London Transport.
Wrightbus recently announced it has agreed to buy the 100-acre JTI Gallaher tobacco site close to its exiting headquarters.
"Lothian Buses is pleased to extend its close partnership with Wrightbus," said managing director of Lothian Buses, Richard Hall.
"We look forward to new and exciting buses joining our fleet in years to come."
Meanwhile the Cookstown-based engineering firm, CDE Global, has secured a major order in Australia.
CDE makes washing and screening equipment for the mining industry.
It will deliver two waste processing plants for Arrium Mining in South Australia in a multi-million pound deal.
The value of the contract has not been disclosed but the company said it is its biggest project in Australia to date.