NI farm payment cut 'could change landscape'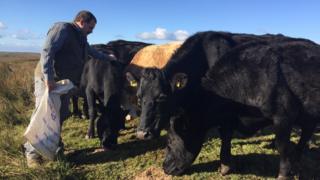 Cutting a key farm support payment could result in changes to the landscape in places like the Belfast hills, environmentalists have warned.
The payment compensates farmers for the added costs of working in areas where its hard to make a living.
The Department of Agriculture has said keeping it will be "challenging".
Environmentalists say if farmers can't afford to keep managing such land, it could lead to encroachment of scrub and heavy grass.
That would degrade an environment that sustains a rich biodiversity of plant and animal life, they say.
Andrew McCammond, who keeps beef cattle in the hills above Belfast, said if the payment - worth about £23 an acre - was cut and his land rental costs don't come down, he would have to stop farming in the hills.
Some £20m was set aside in each of the last two years for the scheme to support farmers who work in what are known as Areas of Natural Constraint (ANC).
Ten thousand farmers applied for support under the scheme.
A review several years ago found that it did not provide value for money.
Jim Bradley, of the Belfast Hills Partnership, said it would only take two to three years for changes to be noticed.
"You begin to get scrub and rough pasture taking over from species rich grassland. And if that continues you'll lose aspects of wildlife that will be very difficult to get back," he said.
A spokesperson for the Department of Agriculture and Environment said: "Given the pressures on both the department's and the executive's budget, providing any additional support to the Severely Disadvantaged Area will be challenging."
Farmers in ANCs will be receiving more money in EU subsidies in the next couple of years under a plan to move away from differentiated payments to a flat rate.
But they say it won't come close to compensating them for the potential loss of up to £20m a year.
The Ulster Farmers' Union has called for the executive to keep funding the scheme.
It is against proposals to redistribute a portion of all farmers subsidy payments to pay for it.
A ministerial decision on future funding is expected soon.