Ulster Bank fined 3.3m euros for money laundering failures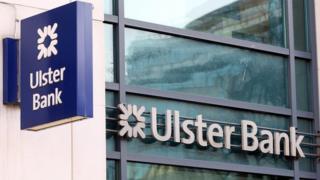 Ulster Bank in the Republic of Ireland has been fined 3.3m euros (£2.98m) by the Irish Central Bank for anti-money laundering and terrorist financing failures.
It is the highest fine ever imposed for such breaches and follows an admission by Ulster Bank following a Central Bank investigation last year.
Ulster Bank has not commented.
The breaches relate to failures to have proper oversight of activities it had outsourced.
As a result, it broke anti-money laundering and terrorist financing rules over a six-year period.
The bank failed to have proper policies in place and also failed to carry out sufficient due diligence of customers to monitor suspicious activities.
The Central Bank has not said whether any money laundering or financing of terrorists actually occurred.
Derville Rowland, director of enforcement at the Central Bank, said "robust frameworks, systems and controls must be the cornerstone of credit and financial institutions' compliance with anti-money laundering legislation".
She continued: "Weaknesses in anti-money laundering controls expose the Irish and global financial system to abuse and threaten to undermine its stability.
"Ulster Bank Ireland's breaches are especially concerning as they point to unacceptable weaknesses in key aspects of its anti-money laundering framework, systems and controls over an extended period of time."