First Derivatives: Profits up 50% at Newry tech firm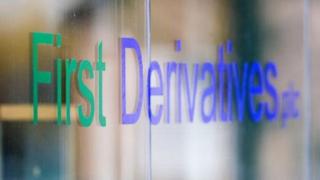 Newry-based financial technology firm, First Derivatives, made a pre-tax profit of £7m in the first half of 2016.
That was up more than 50% on the same period in 2015.
The profit was achieved on turnover of £72m compared to £54m in the first six months of 2015.
The company now employs around 1700 people, up by 200 over the year.
First Derivatives makes financial analysis software used by investment banks all over the world.
They also provide consultancy services and are diversifying into new markets, primarily marketing technology and utilities.
The company said it is "actively working with potential clients to explore use cases for our technology in other arenas such as telecoms and the Internet of Things."
Chairman Seamus Keating said the results demonstrated another period of strong growth.
"We are particularly pleased with our software business where revenue increased by 60% to £29.4m," he said.
The firm was founded by Brian Conlon in 1996 and floated on the stock market in 2002. At that time, it had just 26 employees and a turnover of less than £2m.
Based on its current share price, the firm is worth about £487m. Mr Conlon continues to hold a large shareholding in the firm.