NI Fire Service reports busiest Halloween in six years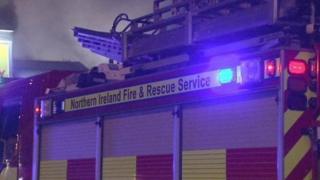 The Northern Ireland Fire and Rescue Service (NIFRS) has reported its busiest Halloween since 2010.
It received 232 calls and attended 166 incidents, a 47% rise compared to Halloween in 2015.
It said its crews came under attack from young people throwing fireworks in Coalisland.
It also had to withdraw from incidents in Rostrevor and Newry due to hostile crowds. No NIFRS staff were injured.
NIFRS said the majority of the incidents were located in Southern Area Command (45%) - which covers County Down and County Armagh - with most of these involving grassland and bonfire materials including tyres.
It received calls to 36 incidents involving bonfires and had to take action on 16 occasions.
NIFRS said 93% of all fires attended over the 24-hour period were started deliberately.