Queen's University: Engineering research centre named after Wrightbus founder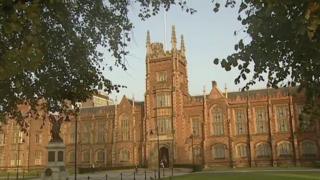 A new engineering research centre at Queen's University Belfast is to be named after the Wrightbus founder William Wright.
The William Wright Technology Centre will be based in the school of mechanical and aerospace engineering.
The aim of the centre is the creation and development of technologies suitable for the bus industry.
Wrights Group, has invested an initial £300,000 in the centre - a figure which is being matched by the university.
The centre is currently in temporary accommodation but a new permanent premises is scheduled to open in summer 2017.
A team of seven employees are already working on a range of research projects
Queen's vice-chancellor, Prof Patrick Johnston, said: "We are delighted and honoured to name our technology centre after Dr Wright.
"Queen's partnership with Wrightbus is one of our longest standing industry collaborations.
"Together we are leading the way in the development of some of the world's most advanced hybrid engines."
Dr Wright founded the original company with his father in 1946 and in 2017 will celebrate his 90th birthday.
He also continues to head up the alternative driveline division at Wrightbus.
He said: "We have a long established relationship with Queen's University and are pleased to be involved in the further expansion of the technology centre.
"This is a new and exciting facility that will continue to stimulate fresh thinking and encourage innovation."