£400,000 for Translink wi-fi upgrade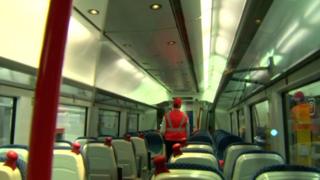 Translink is investing £400,000 in its free wi-fi, promising bus and train passengers in Northern Ireland a quicker, more reliable service.
The company is also considering selling advertising on it to pay for its £250,000-a-year costs.
Ian Campbell of Translink said the upgrade was about improving "speed of access and reliability."
Extending free wi-fi to the company's Belfast Metro buses has been ruled out as too expensive.
Translink introduced wi-fi in 2012 and currently provides it on its Goldline bus service, the Dublin-Belfast Enterprise and its entire Northern Ireland Railways fleet.
'Water in a pipe'
Train carriages are currently being fitted with additional SIM cards and bandwidth is being improved.
Mr Campbell said: "If I can use the similarity to water following through a pipe, we have increased the diameter of the pipe."
He added the Translink would continue "to limit" video streaming to allow more customers to have access to the internet and emails.
The company said it was making the improvements because customers complained that "reliability was not as good as we would have liked".
Translink aims to continue to provide wi-fi for free and is looking at using advertising as a way of covering the annual operating costs.
It says that since it rolled out the upgrade, more passengers have been able to download more data and connections are lasting longer.