Michelle O'Neill defends her position over funding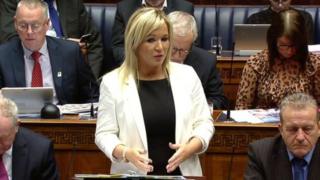 The health minister has told Stormont's health committee she was not rejected for funding in the October monitoring round which could have helped tackle hospital waiting lists.
Michelle O'Neill was criticised by some MLAs.
They said she should have bid for money to help those waiting for operations.
Mrs O'Neill said she was successful in achieving some capital funding.
Three times a year, the Stormont Executive makes extra money available in what are called monitoring rounds.
This month, around £13m was allocated to health for what is known as capital spending - money that must be spent on maintaining buildings and also to buy and upgrade specialised technology.
The BBC understands £8.7m was spent on building maintenance and £4.7m on specialist technology, including new defibrillators for ambulances.
Mrs O'Neill told the committee it is the executive that decided what the money should be spent on.
"I wasn't turned down," she said.
"There is no longer a formal bidding process - the October monitoring has absolutely changed.
"So what there is now is an ongoing dialogue with the finance minister and executive colleagues."
The BBC understands the minister is expected to announce a considerable investment in elective care in January. Funding will be allocated specifically to tackle waiting lists.
She is also expected to announce the roll-out of assessment and treatment centres - a one-stop shop where patients will have their outpatient diagnostic appointment and a meeting with a consultant under the one roof and on the same day.
It is hoped that system will help cut the current hospital waiting list.
That will follow the Chancellor's statement in November - at that point the executive will know its allocation of funding from London, which will then impact on what can be allocated to health in Northern Ireland.
The BBC understands the health trusts will then be able to plan how to spend in a more controlled and measured way. It is thought this process will make the system more sustainable and more beneficial to patients.
Last November, the then health minister Simon Hamilton announced £40m towards tackling hospital waiting lists, but the tight timeframe of having to spend the money before March meant the trusts were unable to deliver.
January's money will be on top of the £40m announced for health in April 2016.
More than £12m of that is being spent on additional diagnostic activity including doctors being able to perform more endoscopies.
Mrs O'Neill said "every effort" was made to maximise expenditure on additional waiting list activity following the allocation of £40m last November.
"Up to the end of March 2016 over 80,000 patients benefited from this additional activity," she said.