Antrim bike retailer jobs threat down to cynical asset stripping says Sammy Wilson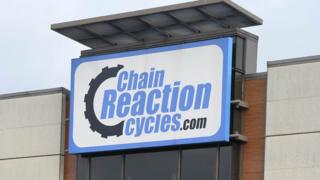 The threat of 300 job losses at a County Antrim bike retailer is a result of "blatant and cynical asset stripping", an MP has said.
Hundreds of workers in the Doagh-based business, WiggleCRC, have found out that their jobs are at risk.
Sammy Wilson accused WiggleCRC of "nothing other than a hostile takeover to put a competitor out of business".
However, the company said a significant staff and management presence in Northern Ireland would be maintained.
It said at least 275 employees would continue to work for them.
WiggleCRC was formed when Wiggle took over Doagh-based Chain Reaction Cycles earlier this year. However, it now says it intends to concentrate the majority of its warehouse facilities in Wolverhampton, England.
Some 152 staff and 161 agency roles are under threat in Northern Ireland as a result.
Mr Wilson, the East Antrim MP, said that Chain Reaction's most important asset to Wiggle was that customer base. The Antrim company was one of the biggest retail success stories of the internet era.
"The weasel words about creating an even more 'compelling customer proposition', extending its product range and being "better placed to compete in the global market" gave the impression that, if anything, the firm would be expanding in Northern Ireland," he said.
"Clearly the most important asset which Chain Reaction had was its customer base which Wiggle wanted to benefit from.
"This asset could be used anywhere and the physical assets such as the warehouses were disposable."
Davy Thompson, from the trade union, Unite, said this was a case of a company "coming in to steal someone else's order book".
"This appears to be a clear case of corporate asset-stripping," he said.
"Wiggle acquired its competitor, the successful Northern Ireland distribution and retail business Chain Reaction cycles, in February of this year and by October wants to close most of its Northern Ireland operations."
He said that trade union representatives raised their concerns with political leaders that Wiggle's acquisition might be driven by a desire to buy a competitors' order-book with little long-term commitment to its workforce.
"We were given assurances that this was not the case," he said.
"Necessary"
In a statement the company said: "For WiggleCRC to retain its position and remain competitive in the UK as well as increasingly global markets, we have concluded that this can be best achieved by concentrating the majority of our distribution through our warehouse facility in Wolverhampton.
"This necessary step, will require the relocation of significant warehouse activities currently in Doagh, Carrickfergus and Ballyclare.
"WiggleCRC will retain a significant staff and management presence in Northern Ireland, with at least 275 unaffected employees forming a vital part of our ambitious growth plans."
Economy Minister Simon Hamilton said he would speak to the company as early as possible to explore new ways of retaining jobs.
A Royal Mail Group spokesperson said: "Wiggle CRC is an important Royal Mail Group customer and we will continue to handle their parcels in the UK mainland from their new bases.
"We have reassured all our staff in Northern Ireland this morning that Wiggle CRC moving their business to Wolverhampton will not have an impact on our Royal Mail operations. It may have a minimal impact on our Parcelforce operations.