Hydebank prison 'significantly improved' but drugs still a concern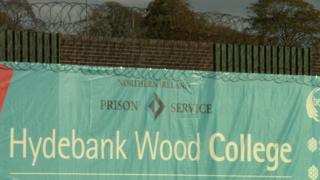 There have been significant improvements at Northern Ireland's prison for women and young male offenders, inspectors have said.
Two reports published on Thursday say there has been a "major shift" in ethos at Hydebank Wood in south Belfast.
However, there are still concerns about the availability of drugs.
The inspectors also said some inmates should be in a secure mental health facility or hospital rather than a prison.
They repeated a call made in a series of previous reports for a separate women's prison to be built, describing the sharing of the Hydebank site with young male offenders as inappropriate.
A team of more than 30 inspectors spent two weeks in Ash House Women's Prison and Hydebank Wood Secure College, which occupy the same site, in May.
'Encouraged'
The two facilities were assessed according to four internationally recognised tests of a healthy prison - safety, respect, purposeful activity and resettlement.
The inspectors' verdict is a marked improvement on a report published three years ago.
It was highly critical of the regime at Hydebank, stating that it was in need of "fundamental and radical change".
The reports said the inspectors were "encouraged" by improvements made.
Hydebank was rebranded as a "secure college" last year, with inmates now referred to as "students" rather than "prisoners".
The inspectors said there has been a change in ethos as well as name.
Changes include a new curriculum, in partnership with Belfast Met, with five teaching periods focusing on the essential skills of literacy, numeracy and ICT, as well as vocational training.
The prison service said they regularly achieve a 100 percent attendance rate.
The inspection reports commend the prison management on a greater focus on education and rehabilitation.
They also said relationships between staff and prisoners had "moved on considerably," and in some cases could be described as "outstanding".
The word "excellent" is used seven times. In my experience, this is the first time the word has appeared in an inspection report about prisons in Northern Ireland.
"The changes which have taken place show what can be achieved within and by the Northern Ireland prison service when reform is embraced," said Brendan McGuigan, Criminal Justice Inspection NI.
'Mental health'
But it is not all positive.
The inspectors said they have significant concerns about the availability of illicit drugs and new "psychoactive substances", which mimic the effects of illegal drugs and are difficult to detect.
"We heard from both young men and women prisoners about the greater availability of illicit drugs which, when combined with a concentration of prisoners presenting with challenging behaviour, was resulting in bullying and intimidation," Mr McGuigan said.
Mental health is also a concern.
The reports say more than half of the young men in Hydebank Wood Secure College, and many of the women in Ash House, reported mental health difficulties.
"In some cases, their needs would be better met within a mental health or hospital setting, rather than within the Hydebank Wood site," the inspectors have said.