Learning records: Concern expressed over Army access to pupils' data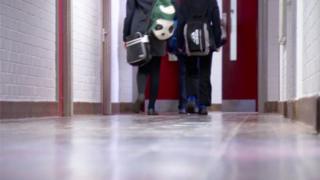 The chair of Stormont's education committee has expressed concern about the Army being allowed access to an online database of school children's learning records.
The Department of Education is introducing a Personal Learning Record (PLR) for every pupil aged 14 and over.
It said information would only be shared with the pupil's consent.
Among the organisations that will be allowed access to the data are the Army, the Navy, the RAF and prisons.
The Student Loans Company can also access it.
Education Minister Peter Weir said the Learning Records Service, which issues PLRs, is "governed by a range of legislation, including the Data Protection Act 1998, and must operate according to the terms of that legislation".
Mr Weir said the body is allowed to share the information on the PLR "with permitted organisations, but only where the organisation is linked to an individual's education and training, only for the specified purpose".
However, Sinn Féin's Barry McElduff, who chairs the education committee, claimed that the move will cause widespread alarm among parents and young people in Northern Ireland.
"I'm surprised about this - alarmed, in fact - and so are the parents who have come to me about it," he said.
"I don't see any reason why the British Army should have access to personal information on young people here."
Mr McElduff said that asking parents of children under the age of 16 to consent to the Armed Forces accessing information about them was "bizarre".
In guidance to schools and parents, the Council for the Curriculum, Examinations and Assessment (CCEA) said the record would contain "all achievements the pupil may obtain at school and outside of school".
This data, the guidance notes, can be "shared with other relevant educational agencies and bodies".
Parents and pupils can choose to opt-out of their data being shared, but they must sign a letter and return it to the school in order to do so.
If they do not sign and return the letter, it is presumed that they have given their consent.
One parent, who spoke to the BBC but did not not wish to be named, said he felt this system was wrong.
"I would say a lot of parents, if they get a letter home about his, don't even read through it properly. You only need to sign if you want to opt out, which I did. But I think it should be the other way around - you should have to sign to make clear you're happy to give your consent.
"I'm also very sceptical about the Student Loans Company being described as an education provider.
"Given today's climate and concerns around data sharing, I think parents need more clarity and assurances on how their children's information is going to be shared between agencies in the future."
The education minister said he was "dismayed that Mr McElduff has chosen to politicise this issue".
"It is important to reiterate that the individual will have complete visibility of all data relating to them and will always be in control of who accesses their PLR," said Mr Weir.
"Learners may choose to share a view of their PLR with an employer or potential employer other than those listed in the legislation.
"If a learner chooses not to share the data, then currently no organisation or individual other than the Learning Records Service would be able to see any qualifications within it."
More information on PLRs and the organisations which can access them can be found here.