300 jobs at risk at online bike retailer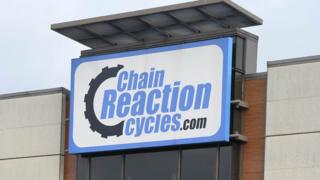 The online bike retailer, WiggleCRC, is planning to cut about 300 jobs in Northern Ireland.
The company was formed when Wiggle took over Doagh-based Chain Reaction Cycles earlier this year.
The company says it intends to concentrate the majority of its warehouse facilities in Wolverhampton in England.
Some 152 staff and 161 agency roles are under threat in Northern Ireland as a result.
"Necessary"
In a statement the company said: "For WiggleCRC to retain its position and remain competitive in the UK as well as increasingly global markets, we have concluded that this can be best achieved by concentrating the majority of our distribution through our warehouse facility in Wolverhampton.
"This necessary step, will require the relocation of significant warehouse activities currently in Doagh, Carrickfergus and Ballyclare.
"WiggleCRC will retain a significant staff and management presence in Northern Ireland, with at least 275 unaffected employees forming a vital part of our ambitious growth plans."
---
John Campbell, BBC News NI Economics and Business Editor
Chain Reaction has been our biggest retail success story of the internet era.
The company is one of the world's main online sellers of bikes and cycling accessories.
It started in 1985 as a single bike shop in Ballynure, owned by the Watson family.
But having built a world-class operation, employing more than 500 people, they sold it last year to rival firm, Wiggle.
Now Wiggle are planning a shake-up which will mean concentrating warehouse operations at its massive facility in Wolverhampton.
The company says it will keep at least 275 jobs in Northern Ireland in roles like management, IT and sales and has promised employees will be treated fairly and in line with their values
Its wheel building operation will remain in Ballyclare.
Major job losses at such a successful and respected company will shock many people.
But in a very competitive market the new owners were never going to be sentimental about Northern Ireland jobs.
'Reaction'
---
The trade union Unite were scathing of the decision.
Davy Thompson, Regional Officer said: "This decision threatens redundancy for more than 150 full-time and 160 agency workers and is completely indefensible.
"This loss of employment is yet another blow to Northern Ireland's economy. These losses affect our retail sector which have suffered the collapse of Exhibit as well as BHS," he said.
Politicians have also been reacting to the news.
Economy Minister Simon Hamilton has expressed his concerns:
"This is a deeply worrying time for staff at Wiggle CRC in Northern Ireland. They are foremost in my thoughts.
"Chain Reaction was a highly successful homegrown firm. It's success led to the Wiggle investment.
"Whilst my officials are already in contact with the company, I will engage with Wiggle management at the earliest opportunity to explore ways of retaining as many jobs as possible," he said.
South Antrim MLA and Ulster Unionist economy spokesperson Steve Aiken told BBC News it is a blow to the local economy.
"I am shocked at the numbers of workers who will be affected, not least because the story of Chain Reaction Cycles has, up to now, been one of continual expansion and success.
"Even at this late stage I would hope that the company would reconsider and realise that Northern Ireland is and can be a better hub than Wolverhampton.
"I have called on Invest NI and the economy minister to engage proactively with the company to overcome this short-sighted decision."