Wages have risen by 2% in Northern Ireland - survey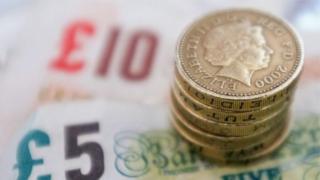 The earnings of a typical full-time employee in Northern Ireland rose by 2.2% this year, an official survey has suggested.
That means a typical full-time worker earned about £25,740, compared to just over £28,000 for the UK as whole.
This is the second year in a row that wages in Northern Ireland have risen by more than the rate of inflation.
The details are contained in the Annual Survey of Hours and Earnings.
'Lower paid sectors'
The UK-wide survey of employers is based on a 1% sample of employee jobs.
It is drawn from HM Revenue and Customs' Pay As You Earn (PAYE) records.
The National Living Wage (NLW) appears to have had a significant impact in lower paid sectors.
The NLW was introduced in April and means over 25s must be paid a minimum of £7.20 an hour, up from the previous minimum of £6.70 an hour.
Across the whole of the Northern Ireland private sector typical full time pay was up by 1.9%.
But among the lowest paid 10% of full time workers pay was up by 5.8%.
'Public/private sector gap'
In the public sector, typical full time pay was up by 3.9%, primarily driven by 7.8% earnings growth in the human health activities sector.
In other parts of the public sector there was no rise.
Northern Ireland's public sector full-time earnings continued to be significantly higher than in the private sector - the difference is just under 30%.
The public/private sector gap is much more marked than in the UK overall, where public sector full-time earnings were 13% higher than in the private sector.
However, the statisticians who compiled the report cautioned that some of the difference between the public and private sector figures were probably due to differences in the composition of the respective workforces.
Many of the lowest paid occupations, such as hospitality and retail, exist almost exclusively in the private sector, while in the public sector there is a larger proportion of graduate-level and professional occupations.