Carphone Warehouse 'pro-choice' ads anger campaigners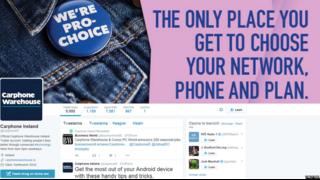 A mobile phone company's "pro-choice" ad campaign has attracted criticism from both pro-choice and anti-abortion campaigners in the Republic of Ireland.
The Carphone Warehouse campaign features a poster with a "We're pro-choice" badge on a denim jacket.
The advert being used on social media and billboards refers to mobile phones, but bears a striking resemblance to materials used by pro-choice activists.
The company has denied taking a political stance on abortion.
Terminations of pregnancy remain illegal in both the Republic of Ireland and in Northern Ireland, except in cases where the mother's life is at risk.
All publicity good publicity?
Cora Sherlock from the Prolife Campaign said the marketing strategy - which is only being used in the Republic of Ireland - was "very regrettable".
"Whether intended or not, it suggests a link to the pro-choice side of the abortion debate," she said.
"Many customers of Carphone Warehouse are women who deeply regret their abortions, or families who say their children are alive because they considered abortion but changed their minds.
"Their feelings should be taken into account by those who came up with these ads.
"Abortion is a life and death issue. Given the fact that people on both sides of the debate feel that these ads are inappropriate, Carphone Warehouse may well realise that all publicity is not necessarily good publicity."
'Slap in the face'
The Abortion Rights Campaign said Carphone Warehouse's marketing department wanted to draw "pro-choicers" to the shops while generating free publicity from the complaints of "anti-choicers".
"On the one hand, a campaign with the slogan 'We're pro-choice' signals a certain relevance and recognition of Ireland's fight for reproductive rights," said the Abortion Rights Campaign in a statement.
"On the other hand, selling mobile phones by appropriating the unfortunate struggle for basic human rights belittles our efforts.
"It's a slap in the face."
'Get people taking'
Carphone Warehouse denied its campaign was meant to offend, saying instead it was designed "to get people talking about the subject of choice and specifically to highlight Carphone Warehouse as a provider of choice to Irish consumers".
The company told the BBC: "We are not making any comment on the current debate in Ireland, nor are we seeking to trivialise the issue.
"This campaign is in no way making a political statement."
"We believe that it is clear that we are only talking about the topic of choice in relation to our business.
"The term 'pro-choice' is now a term in the everyday vernacular and effectively highlights what our brand is all about.
Pro-choice campaigners have held a number of protests in both Northern Ireland and in the Republic of Irish in recent months calling for greater access to abortion.
Anti-abortion activists have also held a number of demonstrations in defence of the current arrangements.