Queen's University: Some PhD students 'earn less than minimum wage'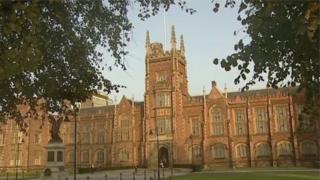 Some PhD students at Queen's University are being paid below the minimum wage, claims a report from the University and College Union (UCU) and Queen's Students' Union.
The report is based on data on work and wages.
Some 250 of Queen's 1,365 postgraduate students took part in the survey.
The university has disputed some of the report's findings, saying they do not tally with recent postgraduate surveys.
The university also said it "takes the issue of student welfare very seriously and is proud of its record in this area".
The vast majority of post-graduate doctoral students also work at university while pursuing their PhD, which takes a minimum of three years to complete.
They normally teach undergraduate classes, mark exams or assignments, or lead classroom and laboratory demonstrations.
'Working as escorts'
However, the UCU report suggests that they are not paid for any time needed to prepare for teaching, which can be extensive.
For example, the report said that some PhD students are paid £33 for teaching an undergraduate class for an hour.
However, it claims that they spend "an average of 5.5 hours per week preparing for their class."
"This means that the average teaching assistant...is not receiving the minimum wage for each hour they work (£6 compared with £7.20)," it said.
One student who provided an anonymous written response to the survey claimed that she had turned to sex work to fund her postgraduate study.
"PhD students, at least in my school, are only paid for teaching/demonstrating duties for the hours we spend in the classroom," she wrote.
"Female post grads are working as escorts and in the sex industry to make the money - in my case to pay fees."
"I had little choice.
"The university does not wish to address the issue of female students, many in financial crisis and from working class backgrounds with no access to credit, working in the sex industry."
The report also said that 40% of students reported doing work for which they were not paid.
'Intolerable'
"This can take the form of office hours, meeting students, replying to student emails, and extra work for their supervisor." it said.
The UCU's PhD student representative, Morris Brodie, called the situation "intolerable."
"Queen's routinely underestimates the hours it takes to prepare for teaching and marking work in particular," he said.
The UCU report calls for a newer, fairer pay scale for postgraduates.
However, in a statement, Queen's said that it has 1,365 postgraduate research students, "and delivers a world class training and research experience."
"The most recent Postgraduate Research Experience Survey recorded an overall satisfaction score of 82.8% by Queen's students," it said.
"The University's postgraduate research students report very high ratings in the areas of training to develop research skills, attending and presenting papers at academic research conferences.
"These satisfaction levels do not accord with the findings publicised by the UCU."