Claire Sugden announces U-turn on courthouse closures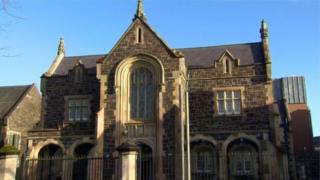 The Justice Minister Claire Sugden has reversed plans to close six courthouses in Northern Ireland.
Those in Armagh, Ballymena, Lisburn, Limavady, Magherafelt, and Strabane were all earmarked for closure under plans announced by her predecessor, David Ford.
Speaking on Tuesday, Ms Sugden said she has "listened to people" and decided to keep the courthouses open.
Shutting them was expected to save the Department of Justice about £1m.
Ms Sugden told the assembly that the courts service "will have to find savings in other areas of their budget" as a result of her decision.
'Half-empty courthouses'
The majority of parties in the assembly have welcomed the news.
However, the former justice minister, David Ford, was critical of the plan.
He said his decision to close the courthouses had been based on "solid evidence" produced by the NICTS.
"Given that it is the minister's personal decision, could she tell us how she plans to fund the £1.1m which will now be spent on keeping half-empty courthouses in operation?" Mr Ford asked.
In response, Claire Sugden said the original decision had been "an exercise in cost-cutting" but said she wanted "to take a more strategic approach".
"It's not just about cost-cutting, it's about how we can best serve the people of Northern Ireland," the minister added.