Great British Bake Off: Andrew's highs and lows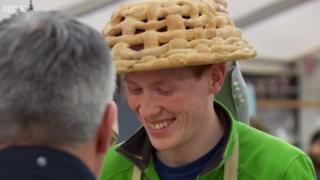 Like a perfectly-executed souffle, the excitement is rising in many households ahead of the final of the Great British Bake Off.
The last episode in the series will air this evening - and for devotees in this part of the world, there can only be one winner - Andrew Smyth.
Fans in Northern Ireland will be up to high dough (local lingo for anxious) as the 25-year-old from Holywood, County Down, attempts to become the seventh and last winner of the hit BBC One show.
For reasons of balance, the two other finalists are rosy-cheeked garden designer Jane and Candice, the PE teacher whose pout has become as famous as her peacock showstopper.
Here are a few tasty morsels, documenting Andrew's highs and lows.
Caramel jousting lows
Andrew has become known for his precision. The aerospace engineer brings his unique skill set to the tent, always measuring and calculating to keep his bakes consistent.
But the amateur baker, who lives in Derby where he works for Rolls Royce, got off to a shaky start, coming last in the very first technical challenge with his Jaffa cakes.
They were, ahem, upside down.
A second low came in pastry week, when the man who designs jet engines for a living forgot to turn the oven on.
He was still not very switched on in the next episode - botanical week, which was not his finest hour.
The Cambridge University graduate had a nightmare and it looked like he was heading for the door, or rather the tent flap.
His meringue's pastry was too thick, herby bread underdone and judge Paul Hollywood described his three-tiered elderflower cake as "dry as a bone". Mary Berry said the flavour was so subtle she couldn't find it.
While he was saved by another contestant's dodgy piping, it was all too much for Andrew, who melted GBBO hearts everywhere by having a wee cry.
Another low point involved caramel jousting poles and his rather awkward placement of them.
The show is renowned for its innuendo but Andrew's marzipan showstopper on Tudor week took it to another level, sending Twitter into meltdown.
Several newspapers asked if it was "Great British Bake Off's rudest moment ever?"
Mechanised pies and other highs
Hailing from Holywood, it was only a matter of time before Andrew won star baker and it was dessert week which put him in the Bake Off hall of fame.
His tropical holiday roulade was, like many of his bakes, raided from the family cookbook - he has said he first got into baking thanks to his mother and grandmother.
While one of his bakes in the Tudor episode raised a few eyebrows, he stepped it up a gear with his Leonardo da Vinci-inspired mechanised pies.
The Sullivan Upper former pupil hit another high note in the semi-final, where he was awarded star baker for a second time.
Andrew, who is a tenor in a choir, went all musical with his herby treble clefs and philharmonic fondants.
As the final looms, Andrew's family, friends and fans - in Northern Ireland, Derby and further afield - will be hoping he can soar to new heights.
There has even been talk of a baguette Concorde.
As GBBO is pre-recorded, Andrew has been getting on with his day job at Rolls Royce while the programme airs.
And despite regularly baking for his colleagues, they have clearly not let him forget his new-found rising star status.