Westminster: Stormont must draft plan to tackle paramilitaries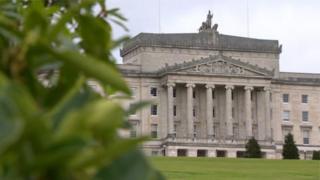 It has emerged that Westminister has not yet released money to tackle paramilitary activity in Northern Ireland because Stormont ministers need to agree on a more detailed plan.
A total of £10m was to be set aside this year to tackle continuing paramilitary activity.
Half was to come from the devolved executive and half from Westminster.
The money is, however, subject to the assembly promoting a strategy to combat the terror threat.
Stormont finance minister Máirtín Ó Muilleoir said: "The Secretary of State has advised that the government funding will not be released until the Executive agrees a more detailed action plan.
"The Department of Justice will be progressing this to ensure access to this funding is secured," he added.
Last year's Fresh Start Agreement between the British and Irish governments and local political leaders pledged to address paramilitarism and tackle organised crime.
The landmark political agreement was struck between the Democratic Unionists, Sinn Féin and the UK and Irish governments last year and resolved a political crisis sparked by a murder linked to the Provisional IRA.
Police are beefing up resources dedicated to tackling paramilitary-linked criminality as part of the plan to eradicate the terror groups.
The strategy also includes a pledge from the UK and Irish governments to "consult to consider" new short-term weapon decommissioning mechanisms, if the requirement arises in the future.
A father was shot dead in Belfast earlier this month and dissidents have been responsible for a string of so-called "punishment attacks" as well as targeting members of the security forces.
The loyalist Ulster Volunteer Force (UVF) has been active in drug-dealing and racketeering in recent years, police have said.