David Bowie art auction to feature works by NI artist F.E McWilliam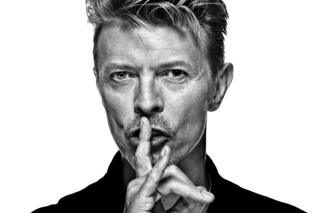 An auction of the late David Bowie's private art collection is to include three sculptures by one of Northern Ireland's most renowned artists.
Bowie, who died in January aged 69, was a secretive yet prolific collector of artwork.
Among the collection are three bronze sculptures by the celebrated sculptor F.E McWilliam.
Pieces by artists including Damien Hirst, Henry Moore and Marcel Duchamp are also set to go under the hammer.
The auctioneers, Sotheby's, expect the singer's entire art collection to sell for more than £10m at the London auction on November 10 and 11.
"David Bowie's collection offers a unique insight into the personal world of one of the 20th Century's greatest creative spirits," said Oliver Barker, chairman of Sotheby's Europe.
According to the Belfast Telegraph, the three McWilliam bronzes - 'Study Princess Macha 1' , 'Girl on Edge of Bed II' and 'Kneeling Girl II' - could fetch more than £24,000.
The Princess Macha piece is a macquette - or preliminary model - of McWilliam's Princess Macha sculpture at Altnagelvin Hospital in County Londonderry.
Born in 1909, Frederick Edward McWilliam is widely regarded as one of Ireland's most famous sculptors.
He grew up in Banbridge, County Down, as the son of a local doctor.
McWilliam was educated at Campbell College, Belfast, and Belfast College of Art, before following in the footsteps of Turner, Constable and Gainsborough by being elected to London's Royal Academy of Arts in 1959.
He died of cancer in London in 1992.
His sculpture 'Study Princess Macha 1' is expected to sell for between £12,000 and £18,000, while 'Girl on Edge of Bed II' and 'Kneeling Girl II' could sell for between £6,000 and £8,000.
Also to feature in the Bowie auction is a painting by the Belfast-born painter, Colin Middleton, who is seen as a major figure in Northern Ireland's post-war art scene.
Shipyard Family is expected to sell for between £6,000 and £8,000.
Belfast-based art historian Dickon Hall said the inclusion of McWilliam's and Middleton's work is "great for Northern Ireland."
"It's lovely to have a Northern Ireland angle to the auction. This brings their work to a whole new group of people."
Although Bowie told the BBC in 1999 that "the only thing I buy obsessively and addictively is art", little had been known about his life as an art collector until after his death.
He did not buy on the basis of reputation or for investment, but because of his own personal response to each artist and their work.