On The Runs: Foster raises concerns with prime minister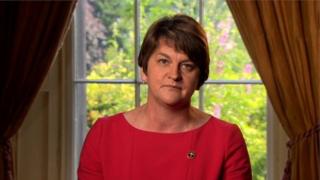 Arlene Foster has raised concerns over a suggestion that 36 republicans who received letters from the government are linked to 136 incidents.
The controversial letters were issued under the On The Runs scheme following the Good Friday Agreement.
180 republican paramilitary suspects were sent letters assuring them they were not wanted by police and would not be arrested.
Mrs Foster raised the issue with Prime Minister Theresa May on Monday.
'Serious crimes'
The first minister said she would seek further discussions with Mrs May to establish the details, some of which were revealed at a recent meeting of the Policing Board.
Chief Const George Hamilton said: "These individuals are linked to many serious crimes throughout the period of the Troubles.
"The focus of the team is on 36 individuals, referenced within the report of Lady Justice Hallett, whose status had previously been changed from wanted to not wanted.
"The team has reviewed 136 incidents linked to those 36 individuals."
Who are the On The Runs?
Anyone already convicted of paramilitary crimes became eligible for early release under the terms of the Northern Ireland Good Friday agreement of 1998.
The agreement did not cover:
• Anyone suspected of, but not charged with, paramilitary offences committed before the Good Friday Agreement.
• Those who had been charged with offences but who had escaped.
• Those who had been convicted of offences but who escaped.