Terror charges: Man in court after 2014 Newry raids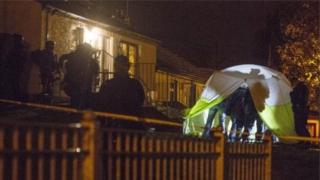 An alleged dissident republican has appeared in court on terrorism charges.
Darren Gleeson, 34, from Corduff Green in Dublin, faced four charges when he appeared in court in Newry.
He was arrested in Belfast on Friday.
The charges include membership of an illegal organisation, conspiracy to possess explosives, preparing for acts of terrorism and receiving instruction in the preparation of improvised explosive devices.
They relate to an undercover MI5 operation at a house in Ardcarn Park in Newry in 2014.
Ten other men have already been charged as a result of the operation which saw the security services record conversations held in the house.
During the brief hearing on Monday, the accused refused to stand or acknowledge the court, but his solicitor said he was satisfied his client understood the charges against him.
A detective constable said he could connect him with the charges and he was remanded in custody until Wednesday when he is expected to make a bail application.