Petrol chain owner LCC takes over Maydown oil terminal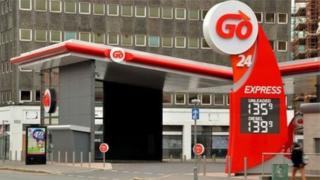 A Northern Ireland energy company has taken full control of an oil terminal in County Londonderry in a "multi-million pound deal."
Cookstown-based LCC Group and Norway's Statoil ASA built the facility at Maydown in 2005.
LCC has now bought out its joint venture partner, saying the acquisition will allow it "to control costs and pass savings on to customers."
It recently won a contract to supply aviation fuel to EasyJet.
Beginning as a coal merchant in 1986, LCC employs more than 180 staff, having diversified into oil, electricity and gas distribution.
The Maydown terminal is used to import and store oil for markets in Ireland, north and south.
LCC- which also owns the Go chain of filling stations - reported a turnover of £544m in 2015.