Halloween: Bar owner 'disgusted' after children attacked at haunted house event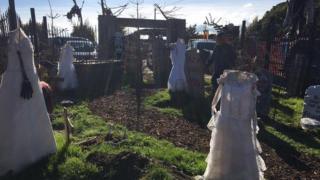 A bar owner has said he is "disgusted" after a charity Halloween haunted house event led to children being "punched, kicked and spat on".
Danny Fitzpatrick, from Fitzpatrick's Bar in Jenkinstown, County Louth, said young people aged between eight and 22 were attacked at the weekend.
He said some children were left in tears by what happened.
Mr Fitzpatrick said the charity event had never encountered behaviour like it before.
"I've been doing this seven years, this is completely new to me," he said.
"In the past, I've had some items stolen but nothing serious. But the last couple of nights has been different."
The bar owner said the event, which is free, attracts thousands of people both sides of the border.
After the attacks on Friday and Saturday, he appealed on Facebook for people to "behave and enjoy yourself" and "not abuse any of the kids giving up their time for a good cause".
More than 8,000 people have reacted to the post.
Mr Fitzpatrick told BBC News NI the event relies on people and children "giving up their free time to act out roles and show people where to go and what to do".
On Friday and Saturday, he said, kids were attacked by a group who were estimated to be aged between 15 and 25.
"Some of them were getting hair pulled, one got punched in the face, one got punched in the back.
"They were spat at, called names, kicked at."
He added: "Kids were in tears over their treatment. Parents have been very angry with me."
He said he has not yet informed Irish police but will increase security at the event, which runs until two days after Halloween.
"From tonight I'm going to have people throughout the area monitoring what's going on.
"If anything happens, kids can easily get to security and report it.
"There's a huge volume of people who come through this event. Last night (Saturday), we had about 2,000 people.
"If we can identify the culprits, we will get the police in right away."
He added: "I do this myself. I don't get a company in to do it, I have the help of two or three people and we start planning in April and May.
"We put this together for people to enjoy, we don't charge in and just ask people to throw money in the bucket.
"I'm worried for the kids. This is very nasty for them."