Theresa May wants more meetings with devolved administrations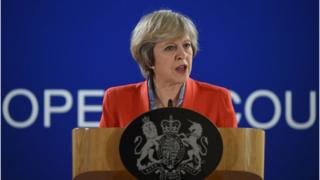 The prime minister wants more regular meetings between the UK government and the devolved administrations in Scotland, Wales and Northern Ireland.
Theresa May was speaking ahead of a meeting with the devolved leaders in London on Monday.
She reiterated her commitment to strengthening the union and making the most of the opportunities presented by the UK's exit from the European Union.
Monday's Joint Ministerial Committee meeting will be the first since 2014.
Mrs May wants these gatherings with the devolved administrations to take place at least once a year and she is proposing they should be hosted in Northern Ireland, Scotland, Wales and England on a revolving basis.
The devolved leaders may give a cautious welcome to the prime minister's promise of a new more grown-up relationship between them and London and a new industrial strategy to spread jobs and wealth around more evenly.
But Mrs May's explicit unionist tone will no doubt please NI First Minister Arlene Foster much more than either Deputy First Minister Martin McGuinness or Scottish First Minister Nicola Sturgeon.
"When I stood upon the steps of Downing Street I made clear the importance of our great union," Mrs May said.
"Far more than mere geography brings us together - and we are much more than the sum of our parts. As we move into this new chapter, we must seize the opportunities ahead, as we will achieve far more together than we could ever do apart.
"I want Monday's meeting to be the start of a new grown-up relationship between the devolved administrations and the UK government - one in which we all work together to forge the future for everyone in the United Kingdom."