M2 reopens following man's death near Sandyknowes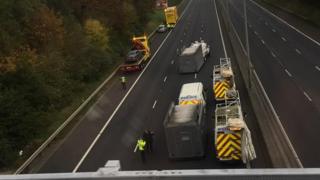 The M2 has reopened after a man died in a incident on Friday morning.
It happened on the hill section near Sandyknowes.
The Sandyknowes roundabout in Newtownabbey had been closed to Belfast-bound traffic and the country-bound slip road was also closed.
PSNI Inspector Rosie Leech apologised for the severe disruption that ensued, but said police had to perform a thorough investigation of the scene.
"The problem is that we don't get a second chance to go back to that scene and if there is evidence scattered across a number of lanes we can't go back after the event to try and retrieve that, we only get one chance at this," she said.
"So I really am sorry that people have been inconvenienced."