UK Supreme Court dismisses appeal over Belfast case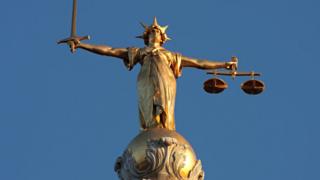 An appeal against a decision to quash a Belfast woman's conviction for murdering her former partner has been dismissed by the UK Supreme Court.
Angeline Sara Mitchell was jailed in October 2010 for the murder of Anthony Robin the previous year.
The Court of Appeal quashed the conviction on the grounds that bad character evidence was wrongly admitted at her trial.
The Public Prosecution Service appealed that ruling to the Supreme Court.
Anthony Robin died after being stabbed several times in a flat in Fitzroy Avenue in south Belfast in May 2009.
Drunken row
Angeline Mitchell, from Lindsay Court in Belfast, had admitted stabbing him, but insisted she had not intended to kill him.
During her trial, she said she stabbed him during a drunken row when he had been been verbally and physically abusive.
The jury unanimously convicted her of murder and she was told she would spend at least 12 years in prison.
During the trial, statements were read to the jury containing details of two incidents in which Angeline Mitchell was said to have threatened and stabbed two other people.
None of the alleged incidents resulted in a criminal conviction and Ms Mitchell had disputed the allegations.
Character witness
In the appeal against the murder conviction, Ms Mitchell's lawyers argued that the bad character witness had been wrongly admitted.
They argued that the judge had failed to direct the jury properly on "the purpose of bad character evidence or the standard of proof to which the jury had to be satisfied" before they could take it into account.
The Court of Appeal quashed the original conviction and ordered a retrial.
The Public Prosecution Service (PPS) then appealed that ruling.
It argued that evidence of Angeline Mitchell's previous bad character demonstrated a propensity to use knives to attack or threaten others.
But five UK Supreme Court judges dismissed the PPS appeal and upheld the decision to quash the murder conviction.
They said propensity alone could not be used to establish guilt.
"It is clear... that the trial judge failed to give adequate directions as to how the question of propensity should be approached by the jury," their judgement states.
"On that account the conviction was unsafe and it was properly quashed."
'Technical point'
In a statement to the BBC, the PPS said it had not sought to appeal the quashing of the original conviction, but challenged the way the Court of Appeal "misstated the standard of proof required when introducing bad character evidence".
"The sole point was a question of law and was found in our favour," the statement said.
"The point taken by the PPS was a technical point about how the issue of propensity is to be dealt with in a criminal trial."