NI farming: Plan aims to increase profits and help environment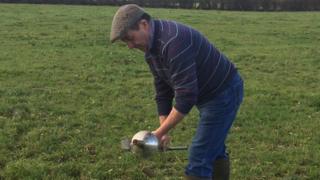 Farms could be more profitable and help improve the environment, according to a new plan.
It includes recommendations for a publicly-funded analysis of soil on agricultural land across Northern Ireland.
There would also be 24-hour monitoring of water quality at 60 river catchments.
If adopted, it is claimed, it would make farmers better off and improve habitats for wildlife.
The report was commissioned by the government two years ago and launched on Friday.
A working group was asked to find ways of boosting agri-food while improving environmental standards.
At its heart is a proposal to sample and profile soils on farms across Northern Ireland, many of which are not as fertile as they could be.
The plan is to encourage farmers to improve them by application of lime to address acidity, while only adding nutrients that are really needed.
Excess nutrients, especially phosphates in slurry, can leach into watercourses and damage them.
More than 60% of Northern Ireland's rivers and lakes fall below water quality standards set by Europe.
Under the plan, farmers will be given precise information about the soils on their farms allowing better management.
They can use this information to grow more and better quality grass and reduce feed costs, boosting productivity and profitability.
'Conacre'
There will also be extensive planting of trees and hedgerows creating wildlife habitat.
As well as storing carbon, they will be used to filter farmyard water, slow floods, provide bio-secure barriers between adjoining herds and screen smell from intensive livestock units.
The strategy calls for a shift from enforcement to advice for farmers who ask for help in managing pollution risk.
It includes recommendations that Northern Ireland move away from its conacre system of 11-month land rental.
The report says this discourages investment due to insecurity of tenure.
It is hoped the strategy could provide Northern Ireland agri-food with a distinctive brand, allowing it to position itself in global markets
The plan will be passed to the Department of Agriculture and the Environment for consideration.
It is thought the considerable cost would be split between taxpayers and farmers.