Alliance MLA apologises to Attorney General for re-tweeted allegation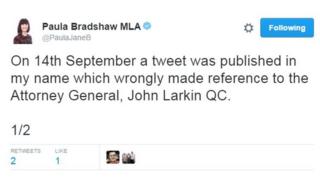 An Alliance MLA has apologised to Northern Ireland's Attorney General for a re-tweet she posted last month.
In a tweet on Thursday night, Paula Bradshaw said the re-tweet "wrongly made reference" to John Larkin.
She added that the re-tweeted allegation regarding Mr Larkin's views on women was "totally unfounded".
The original tweet was posted on 14 September, following a story about a woman who had to return her foetus's remains from England in a cooler bag.
The tweet was subsequently deleted.
It is understood Mr Larkin threatened legal action against Ms Bradshaw in the wake of the post.
Legal expert Joshua Rozenberg said such apologies are still "fairly unusual".
However, he added that they are likely to become more prevalent as the legal industry is keen to make the public aware of the serious implications of potentially libellous tweets.
"Politics are increasingly played out on social media, but you certainly can't rely on parliamentary privilege on Twitter," he said.
"Politicians and the public in general need to be careful not to overreact and to think about the impact of social media.
"In this case, it's right that the people who would have seen the post - her followers - is the same audience for the apology.
"Unfortunately for the tweeter, the public will often take more interest in the apology than the original tweet."