Patrick Clarke: Councillor banned after sex conviction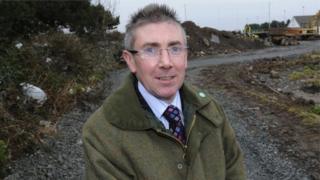 An independent member of Newry Mourne and Down Council has been disqualified from office after fraud and sexual assault convictions.
Patrick Clarke is the first councillor in Northern Ireland to have been found to have broken the local government code of conduct.
He has been convicted of offences including sexual assault, criminal damage and defrauding two community groups.
His disqualification lasts three years.
Imposing the disqualification, the Acting Local Government Commissioner for Standards, Ian Gordon, said a significant element of Mr Clarke's conduct involved bringing "his office as a councillor and that of his council into disrepute".
He said the poor conduct displayed by Mr Clarke "undermines the critical trust between the public and the people they elect."
Alcohol issues
Mr Gordon added: "This relationship of trust is essential if public confidence in local government and the democratic process is to be maintained".
Mr Clarke, who stood previously for the Alliance Party, previously announced he was quitting politics on medical grounds. saying he was suffering from depression and "alcohol issues".
But he later told local newspapers he had changed his mind and would not quit.
In the past two years, the councillor, from Castlewellan, has been convicted of sexually assaulting a woman at a hotel in Newcastle.
He was also convicted of two charges of defrauding community groups.
He also forced his way into a neighbour's house armed with a hammer.
Mr Clarke has admitted breaching the councillors' code of conduct and apologised to his family, friends and the electorate.