Dungiven: Shooting was paramilitary-style attack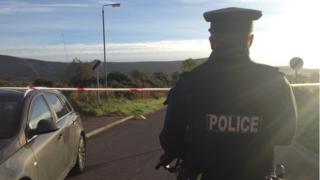 A man who was was abducted from the Londonderry area before being shot in the leg was the victim of a paramilitary-style shooting, police have said.
The 22-year-old was dumped in the Hass Park area of Dungiven at about 20:00 BST on Wednesday night.
He was taken to Altnagiven Hospital, but his injuries are not believed to be life-threatening.
The shooting is the second attack of its type to happen this week.
Sean McGlinchey, a Sinn Féin councillor, was in the area at the time.
He said he spoke to the victim, who told him he had been taken from his Derry home by three men.
"He said he was going to his see his father who is in Altnagelvin Hospital on life support.
"He said he couldn't understand why he was taken out and shot. He didn't know where he was, he was that confused."
Victim 'crawled' down the road
Mr McGlinchey added that the victim "must have crawled about 20 or 30 yards down the road" to find help after being shot.
"A local resident spotted him, phoned an ambulance and stayed with him until an ambulance came so I have to commend him.
"I spoke to the resident too and he was badly shook up after coming upon this."
Mr McGlinchey also said he number of attacks of this nature was "alarming".
"It's not the way forward for any type of society, but whatever I say seems to fall on deaf ears," he said.
Police investigating the shooting have said they want to speak to anyone who was in the Glenowen Park area of Londonderry on Wednesday night and who noticed anything unusual between 18:30 and 20:00 BST.
They are also appealing for information from anyone who saw any suspicious activity in the Glenshane Road area close to Altnagelvin Hospital, or at Hass Park in Dungiven, between these times.