Dungiven: Man shot in the leg said he was 'taken from Derry home'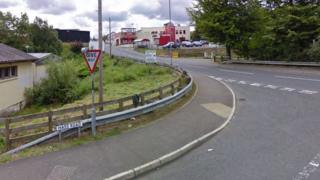 A man has been shot in the leg in Dungiven, County Londonderry.
The incident was reported at about 08:05 BST on Wednesday night. The Northern Ireland Ambulance Service said the man was taken to Altnagelvin Hospital.
Sean McGlinchey, a Sinn Féin councillor, said he spoke to the victim who told him he was from Londonderry.
He said the man told him that he had been taken from his Derry home by three men.
"He said he was going to his see his father who is in Altnagelvin Hospital on life support.
"He said he couldn't understand why he was taken out and shot. He didn't know where he was, he was that confused."
Mr McGlinchey added that the victim "must have crawled about 20 or 30 yards down the road" to find help after being shot.
"A local resident spotted him, phoned an ambulance and stayed with him until an ambulance came so I have to commend him.
"I spoke to the resident too and he was badly shook up after coming upon this."