Coleraine: Man charged with Mark Lamont murder granted 'draconian' bail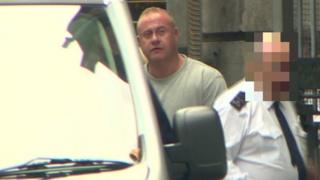 A window cleaner charged with murdering a man has been granted bail under conditions described by the judge as "draconian".
Mark Lamont, 54, died after being attacked last month in Coleraine.
Richard Dalzell, 35, of Whinpark Road, Newtownards, denies murder and said he acted in self-defence.
The accused is banned from entering the Causeway Coast and Glens council area among other conditions.
The court heard that before the alleged attack Mr Dalzell was disturbed by Mr Lamont while he was having sex.
The court was told that Mr Dalzell had spent the day leading up to the alleged incident drinking with a woman at the Forge Bar in Coleraine.
Prosecution lawyers said they left after an altercation with three men, including Mr Lamont and an ex-partner of the woman.
It is claimed shortly that after they returned to the woman's home, three hooded men, one of whom was Mr Lamont, entered the house.
The court was told they found the accused and the woman having sex.
The three men left after a controntation with Mr Dalzell, but, according to the prosecution, Mr Lamont was subjected to a serious assault when he returned to the house.
Footwear marks
The court heard that a witness described a well-built man jumping on Mr Lamont's head.
"She described the male as putting a lot of effort into this so he could really hurt Mr Lamont," the court heard.
The court was also told that forensic tests showed footwear marks on the dead man's head and clothing.
The accused is alleged to have fled the scene and was later arrested at a police station.
During interviews, he recalled punching and wrestling Mr Lamont but could not remember any stamping.
The court heard that Mr Dalzell described it as a fight where "you do these things in the heat of the moment".
"He was breathing and trying to get up. I was doing what I was doing to keep him down," he is reported to have told police.
"I won, got the better of him. We had a fight, he lost."
'Not recovered'
He claimed he then had driven home in a panic.
Prosecution lawyers opposed bail and said Mr Dalzell could have gotten rid of important evidence before handing himself in to police.
Phones were allegedly disposed of while shoes worn by the accused at the time of the alleged incident have not been recovered.
Defence lawyers told the court that a second autopsy had found no footwear marks on the victim's head or face.
He also said conflicting witness accounts posed a problem for the prosecution while Mr Dalzell had given police a full and frank account of acting in self-defence.
Mr Dalzell's lawyers also claimed he was threatened and told he would be "cut up" during the incident.
The judge ordered the accused to put up £2,000 cash surety, surrender his passport and abide by a curfew and electronic monitoring.
He is also banned from contacting witnesses as well as entering the entire Causeway council area.