Bang, bang bans: A short history of firework laws in Northern Ireland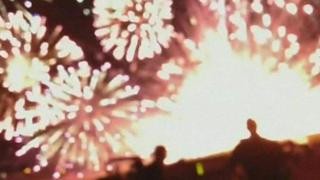 Think of Halloween and you'll likely think of costumes, ghouls, pumpkins and, of course, fireworks.
However, fireworks in Northern Ireland have long been subjected to some of the strictest laws in the world, while in the Republic of Ireland it is an offence to light any firework.
Those looking to use outdoor fireworks must apply for a licence from the Department of Justice.
Despite these tight regulations, people are still being injured at this time of year.
Last Halloween, there were 515 firework licences issued in Northern Ireland with 15 people reported to accident and emergency departments with firework-related injuries.
Most of those injured were children with burned hands or wrists.
The law in Northern Ireland is heavily dictated by its unique security situation.
During the Troubles, fireworks were completely banned, except for public displays, over fears that the noise of fireworks could be confused with the sound of bombs or gunfire.
There were also concerns that they could be used as weapons or as parts of bombs.
The ban was later lifted in 1996 at the time of the paramilitary ceasefire. But in May 2002, new laws were brought in to combat the continued use of fireworks as weapons.
The then Security Minister, Jane Kennedy, said she had been "forced to act" because of their widespread use and pointed to a number of incidents when they were used by rioters to attack police.
Why are firework laws stricter in Northern Ireland?
Firework offences carry a maximum fine of £5000, or a three-month prison sentence. According to the government, the regulations are in place to limit the "deliberate misuse of fireworks".
When do I need a licence?
A licence is required for the use of all fireworks. It is not required for what are sometimes known as "indoor fireworks", or for sparklers.
How do I get a licence?
Applications are available via the NI Direct website. The Department of Justice suggest getting your application in at least three weeks before your event.
How much does it cost?
Cost depends on the number of people attending your event - fewer than 100 is £30, 100 - 1,000 is £80 and over 1,000 is £160.
When can I set off fireworks?
Licenses are only valid for the time stated. The Department of Justice says it will not normally issue a license for use between 23:00 and 07:00, though exceptions are sometimes made for New Years' Eve.
Who can I buy fireworks from?
Fireworks should only be bought from registered retailers.
What about bangers?
Bangers, as well as aerial wheels, jumping crackers and spinners are all illegal.